The Independent Electoral Commission (INEC) has officially declared President Muhammadu Buhari of the All Progressives Congress (APC) as the winner of the 2019 presidential elections.
The National chairman of INEC, Prof. Mahmood Yakubu, said the duty of the commission is to conclude and collate the presidential election result for final declaration.
Yakubu said on the issue of accreditted voters not adding up to the number of voters, the problem affects less than 2 percent, thus, does not affect the general election.
Concerning Yobe and Akwa Ibom state number add up, He said on the opening of the commission's backlend fr verification and cross checking of voters, he siad it is not a matter of law. he said the discussion can be continued after the end of the process.
Party agent to the Peoples Democratic Party, Osita Chidoka said there was a discrepancy of more than 1,600,000 voters in terms of registered, the canceled votes affected more than 2 million voters and also claimed that there were 5.1 million votes that cannot be accounted for and thus called for rerun election.
In response, Prof Mahmood Yakubu said the assertion of 5.1 million voters could not vote because of card readers is not true and that when the card readers are deliberately circumvented, votes will be cancelled.
Yakubu said as the chief commissioner, he has two roles constitutionally, Firstly he will announce the national collation of results.
Secondly,as the returning officer for the presidential election, he will make a final declaration of the winner.
The INEC listed all the names of the presidential candidates and their votes, announced that Muhammadu Buhari of the All Progressive Congress (APC) scored 15,191,847 votes , while Atiku Abubakar of the Peoples Democratic Party, (PDP) scored 11,262,978 votes.
That Muhammadu Buhari of the APC, having satisfied the requirement of the law and scored the highest number of votes is hereby declared the winner and is returned elected.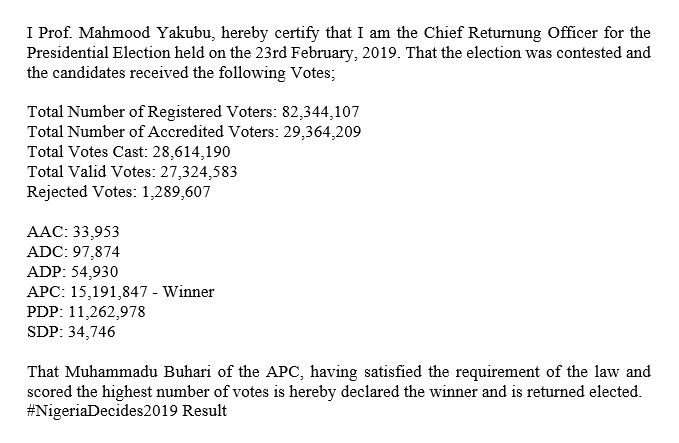 Please follow and like us: